Python has been introduced as an Open Elective subject for 6th Semester BE students under Visvesvraya Technological University (VTU).  The study material for this subject will be shared here. 
Python is one of the most popular programming languages in this era. From the employer's and employee's perspective, Python has gained one of the top positions.  The survey being conducted world-wide by Hacker Rank reveals the popularity of Python. IEEE Spectrum survey on most popular programming Languages is depicted in the chart given here.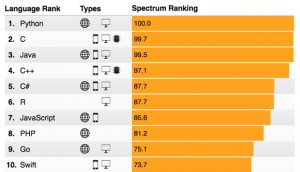 Python is identified as –
3rd Largest Meetup Community (1300+ groups, 608k+ members in meetup.com)
4th Most used language in GitHub
5th Largest StackOverFlow Community
According to AngelList, Python is 2nd most demanded skill with highest average salary offered.
Most Popular websites built using Python are –
Google
YouTube
DropBox
Instagram
Quora
Pinterest and so on
Some of the applications of Python are –
Web Development (using Django framework)
Data Science (Machine Learning – PyBrain, scikit-learn etc)
Data Analytics (matplotlib)
Artificial Intelligence (AIMA, pyDatalog)
Scientific Computing (numpy)
Image Processing (OpenCV)
Signal Processing (scipy.signal)
Robotics (ROS – Robotics OS, pyro)
Circuit Simulation (PySpice)
Games
Python Editors and Installing Python
Before getting into details of the programming language Python, it is better to learn how to install the software. Python is freely downloadable from the internet. There are multiple IDEs (Integrated Development Environment) available for working with Python. Some of them are PyCharm, LiClipse, IDLE etc. When you install Python, the IDLE editor will be available automatically. Apart from all these editors, Python program can be run on command prompt also. One has to install suitable IDE depending on their need and the Operating System they are using. Because, there are separate set of editors (IDE) available for different OS like Window, UNIX, Ubuntu, Soloaris, Mac, etc. The basic Python can be downloaded from the link:
https://www.python.org/downloads/
Python has rich set of libraries for various purposes like large-scale data processing, predictive analytics, scientific computing etc. Based on one's need, the required packages can be downloaded. But, there is a free open source distribution Anaconda, which simplifies package management and deployment. Hence, it is suggested for the readers to install Anaconda from the below given link, rather than just installing a simple Python.
https://anaconda.org/anaconda/python
Successful installation of anaconda provides you Python in a command prompt, the default editor IDLE and also a browser-based interactive computing environment known as jupyter notebook. The jupyter notebook allows the programmer to create notebook documents including live code, interactive widgets, plots, equations, images etc.
Python_15CS664_QuestionBank (For First Test)
Module2_Python_15CS664 (Excluding Files)
Module3_Lists_Dictionaries_Tuples (Excluding Regular Expressions)
Solution_ProgrammingQuestions_Part2